Mr. Parker's TIPS 1-4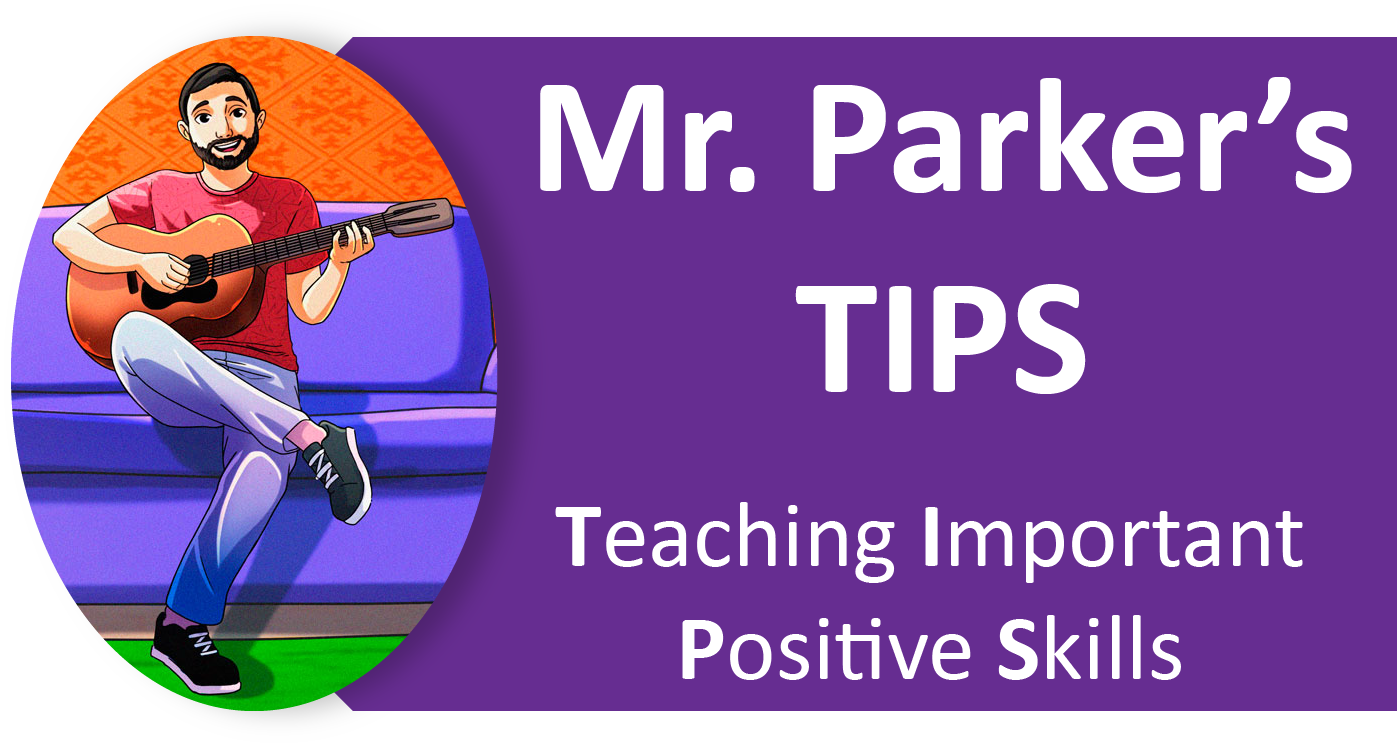 Introduction
Mr. (Adam) Parker is a friendly, thoughtful young School Psychologist living and working in Colorado. He has a wide range of experiences including teaching at the university level, working in elementary, middle and high schools, and serving on a district crisis team. As a result, he has lots of experience and insights into the social and academic lives of students.
Adam is a musical guy who enjoys playing the guitar and drums. He believes music allows everybody to relax, have fun, and truly enhances learning. He has found that just listening to music can calm nervous, help people smile more, and encourage feelings to appear safely.
In Mr. Parker's TIPS series of YouTube videos, Adam shares his enthusiasm for life through music and brief talks with the goal of Teaching Important Positive Skills – TIPS – to all students. His engaging videos cover a range of social emotional learning skills and their application to many social situations that confronted students at school or in their communities. His songs are original and make you smile while learning simple, but powerful messages.
Using Mr. Parker's TIPS with the SSIS CIP
Mr. Parker has created more than 20 YouTube sessions that are highly relevant to the instructional goals of the SSIS SEL CIP. He continues to create YouTube sessions weekly, so over time each of the CIP Skills Units is likely to have one or more of his TIPS sessions that can be used to support and supplement many CIP Skill Unit Lessons.
All the Mr. Parker TIPS sessions are free standing; that is, they are not embedded in the CIP PowerPoint Lessons slides. This allows for flexibility in their use.
Some users will find they like using Mr. Parker's TIPS sessions to initiate Lesson #1 of a CIP Skill Unit because the engaging and musical sessions will quickly connect with all students and enhance interest in lessons. Several users have noted Mr. Parker's TIPS sessions nicely expand many of the typical Lesson #2 messages regarding expressing and regulating emotions effectively. Still other users may find them better to end Lesson #3 because the songs are memorable and in many cases inspirational. In sum, Mr. Parker's TIPS sessions are versatile and offer users some fun and informative resources to make the SSIS SEL CIP lessons even more effective for many students.
Mr. Parker's TIPS Video Hit List (Videos 1-4)
TIPS #1 on Empathy
(CIP Unit 20 – Makes Others Feel Better)
An introduction to Empathy, what it is, a short song about it, and some TIPS on how to feel what others are feeling.
TIPS #2 on Paying Attention
(CIP Units 1 Listen to Others & 4 Pay Attention to Your Work)
Learning how to pay attention by using your eyes for watching, ears for listening, keeping your voice quiet while others are talking and keeping your body still. In this TIPS session, you will learn how good listening skills on your body.
TIPS #3 on I-messages
Learning how to express your feelings by owning what it is you are feeling and then expressing it. In this TIPS session, you will learn how to express your feelings an let others know how you are feeling.
TIPS #4 on Feelings
(CIP Unit 13 Express Your Feelings)
Learning what feelings look like on our body. In this TIPS session. you will put your feelings into 4 different colors. Red when you're angry, Green when you're happy, Yellow when you're nervous or almost out of control, and Blue when you are feeling sad.